World Food Championships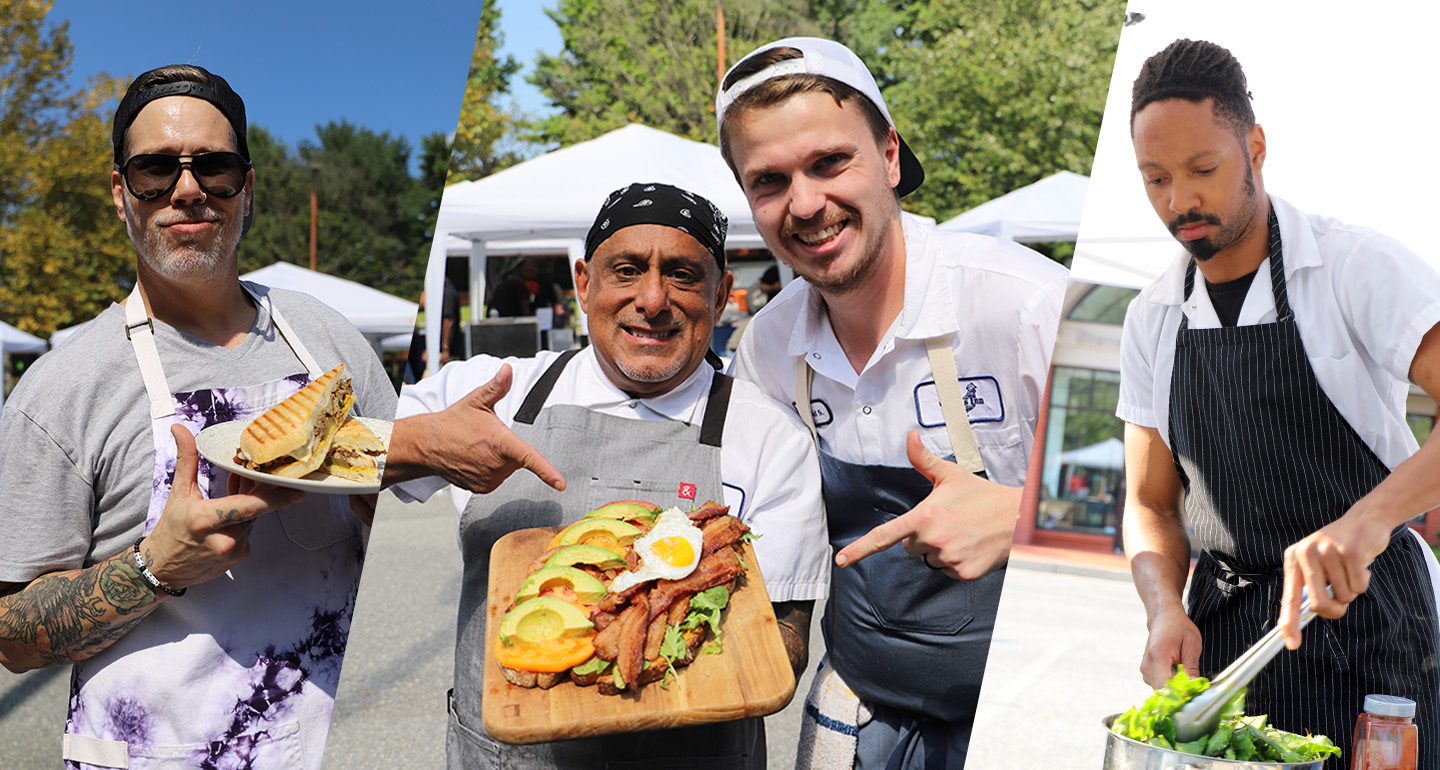 The Restaurant Association of Maryland is a state partner for World Food Championships.
The World Food Championships is the largest competition in Food Sport, where grand champions of previous events convene for a chance at winning the ultimate food crown and a share of hundreds of thousands of dollars in prize money. This event is also the springboard for many up and coming culinary stars and home cooks as they seek TV fame through many well-known food shows and acting opportunities.
RAM hosts 10 qualifying competitions each year. In order to be invited to compete in the World Food Championships you must earn a "Golden Ticket" by winning a qualifying event. Competitions are open to anyone, including "home cooks" who may not be professionals in the food service industry. If you can cook, you can compete!
Upcoming Competition: Apples, Apples, Apples!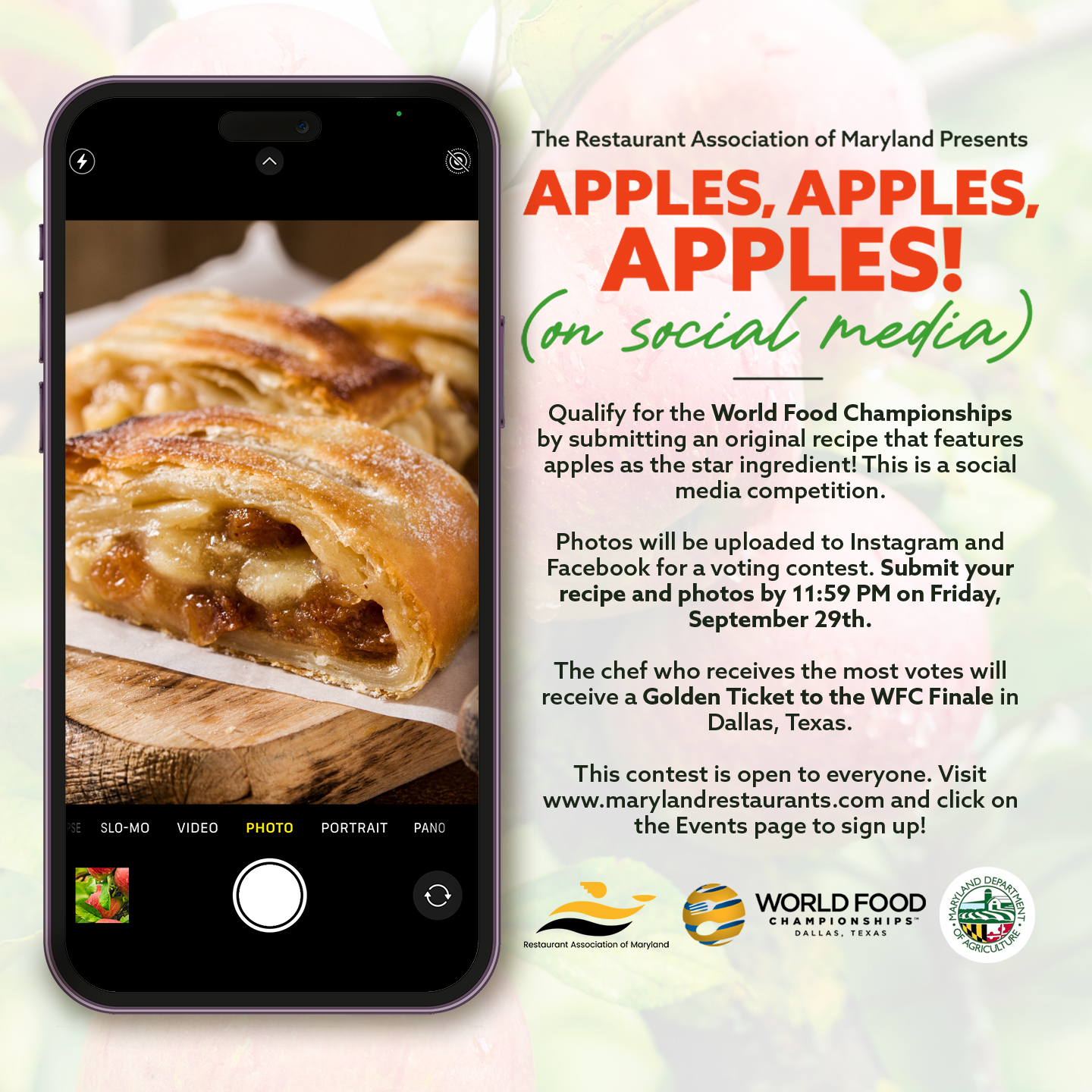 Date: Sept. 29, 2023
Qualify for the World Food Championships by submitting an original recipe that features apples as the star ingredient! This is a social media culinary competition. Submit your recipe and photos by 11:59 PM on Friday, September 29th. Photos will be uploaded to social media for a voting contest. The chef with the most votes will receive a Golden Ticket to the WFC Finale in Dallas, Texas.
This contest is open to everyone.
Sponsors: MD Dept. of Agriculture
Upcoming Competition: U.S. Oyster Festival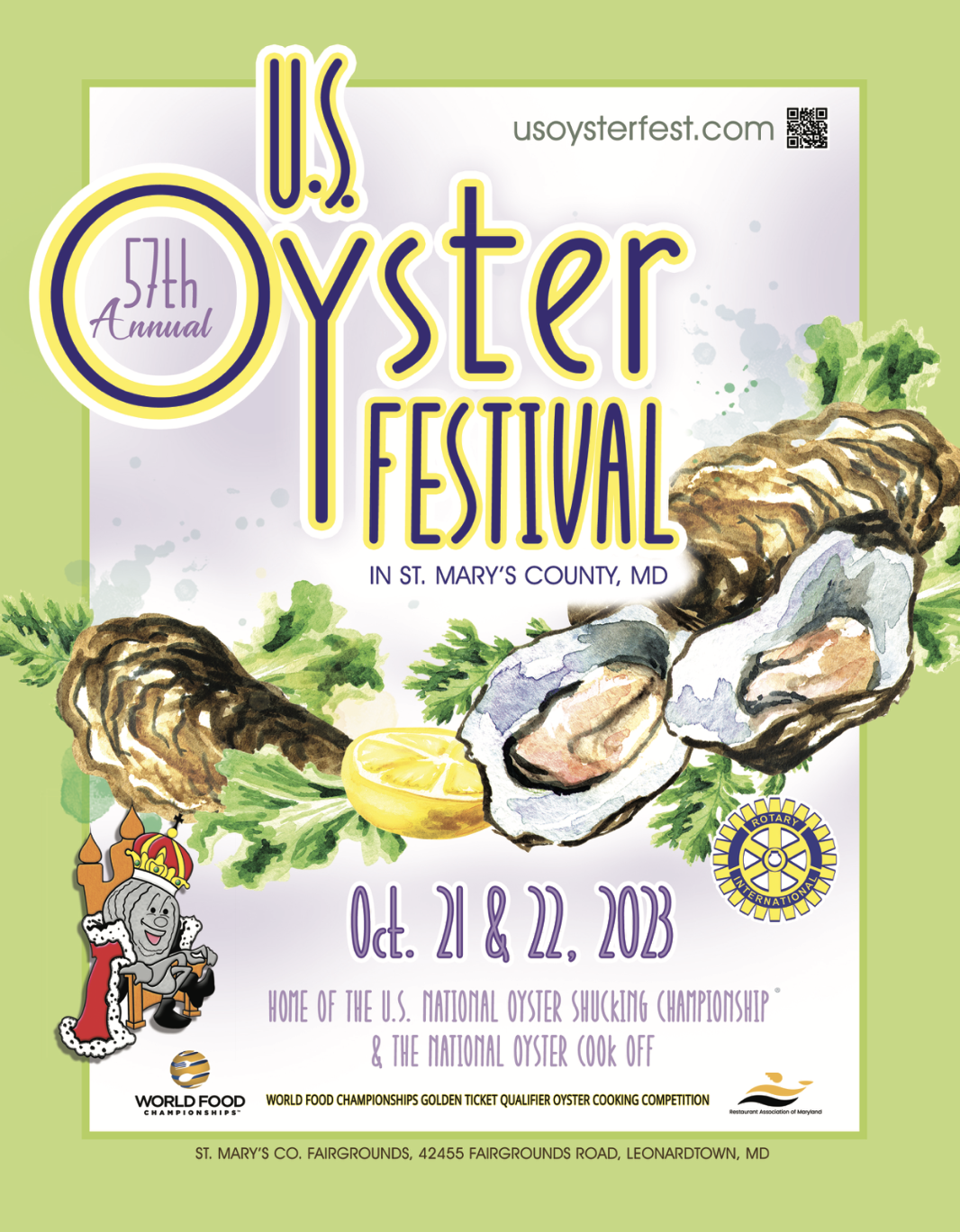 Date: October 21-22, 2023
The 57th annual U.S. Oyster Festival will take place at the St. Mary's County Fairgrounds from October 21-22. This event will feature the 44th annual oyster cook-off on October 21, where the winner will receive a seafood Golden Ticket to the WFC finale in Dallas, TX. Recipe submissions for the oyster cook-off must be submitted no later than August 31st; anyone may participate. For general information about the event or to purchase a ticket, view their website.
Previous Competition: Farm Fresh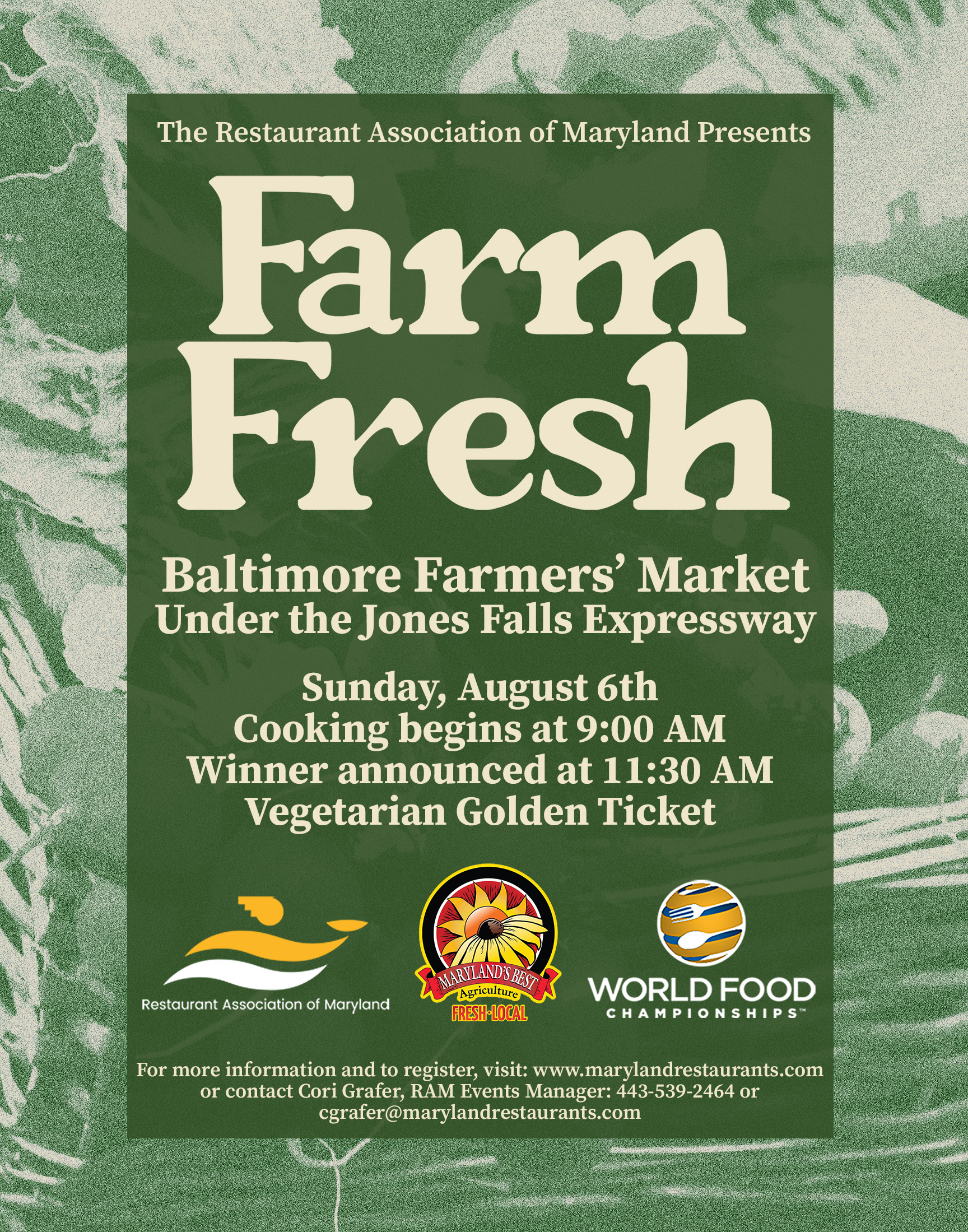 Date: August 6, 2023
Winner: Dave Rolls, Chef4Health
RAM and the Department of Agriculture took over Baltimore's favorite farmers market for a summer vegetable showdown! This competition was held at the intersection of Holliday Street and Saratoga Street, and featured local produce provided by our farmers. Chefs utilized local, fresh products offered at the market to create their best vegetarian summer dish.
Sponsors: Maryland's Best
Previous Competition: Cooking With Fire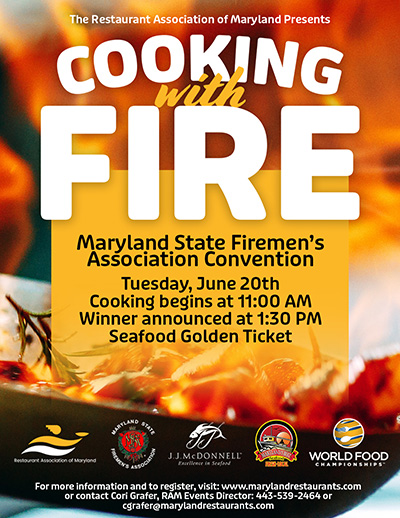 Date: June 20, 2023
Winner: Ryan Wittington, Ocean City FD
The event was held at the Maryland State Firemen's Association Convention to give local firefighters the opportunity to compete and qualify for the World Food Championships finale in Dallas, TX. Walter Townsend of Salisbury FD and Michael Hill of Ocean City FD Station 2 were great competitors, and we enjoyed their company and culinary skills.
Sponsors: JJ McDonnell and Maryland's Best
Previous Competition: Battle of the Bridge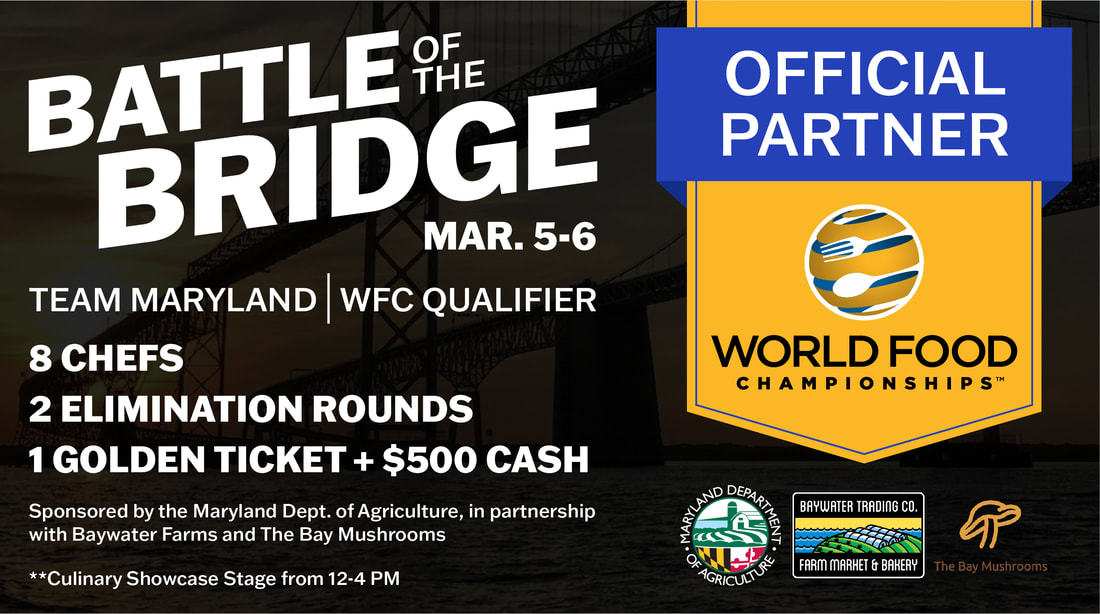 Thanks To Our Sponsors: